Matthews Roses are available for sale all year round. They make the perfect gift for a lifetime of blooms. To find your nearest NZ Garden Centre Stockist check out our Stockists page. The following information applies to our online store. Rose deliveries are within New Zealand only. For Terms and Conditions please scroll to the bottom of this page.
Bareroot Bush Roses WINTER (June - August)
These are dormant new season winter roses - traditionally the best time to plant! If you are planning on ordering a few roses we suggest ordering at this time of year as multiple plants can be packed into one parcel. This also saves on freight costs and packaging materials. These can also be pre-ordered from March to May, which is highly recommend due to the popularity of some varieties.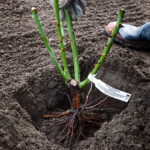 Potted Bush Roses SPRING/SUMMER (September - March)
These roses are potted in our beautiful burgundy hard pots for Spring/Summer delivery. Perfect for gifting while in bloom for the holiday season or anytime for that special someone (pictured 'Lucky Charm' in December) Shipping costs of potted roses differ to winter bareroot roses so see freight information below.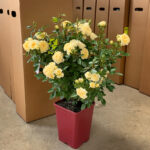 Standard Roses Bareroot WINTER ONLY

Our online selection of Standard 800mm and Mini-Standard 450mm roses are only available to buy on our website Bareroot during winter from June to August (as they are too large to deliver on the courier over Spring/Summer). We recommend visiting your nearest Garden Centre Stockist for further availability.
Dispatch
Our usual dispatch day is WEDNESDAY each week (this can change depending on public holidays and over the Christmas/New Year break). Roses ordered online are dispatched Bareroot from June to August and Potted from September to March. Sign up to our monthly newsletter to keep updated with the latest information.
Freight / Rural Delivery

We can deliver roses all over New Zealand (including Stewart Island and the Chatham Islands!) Freight costs are calculated automatically at check out. Please note there is an additional charge of $6.00 for rural delivery addresses. Scroll down to our Terms and Conditions below to see full pricing.
Gift Cards
For your convenience we have a free gift card available. If you would like to add one to your order it can be selected from our 'Gifts and Special Occasions' page and added to cart with your message. Popular gifting varieties also have the option to add a free gift card below the 'Add to cart' button. Alternatively you can leave a message in the 'Order Notes' section on the Checkout screen or get in touch with our friendly team.
Weeping Standard Roses & Cascading Pillars
These 1.8m high plants make a statement in any garden setting. We recommend ordering from your nearest Matthews Roses stockists. They are too large to send direct on the courier which is why they are not listed for sale online. See our Garden Centre stockists page for your local supplier.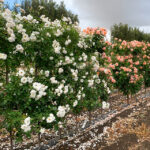 Crabapple & Lilac Trees
Our specialist range of Crabapples (Malus) and Lilacs (Syringa) trees are exclusively available from selected garden centre stockists. They are a true seasonal delight! See our stockists page for your nearest supplier.

Sold Out Varieties

If a rose variety is currently sold out, it may be available in store at one of our Garden Centre Stockists or online the following season. If you are unsure about availability or have any questions about pre-ordering contact us directly - see our Contact page.
Product Descriptions
All rose varieties listed online are personally viewed by Bob and Cath Matthews on the nursery in order to provide an accurate as possible description. In reference to fragrance it is described as to what we smell which may differ slightly from your nose! If a description does not mention fragrance, it is because that variety has none. Plant heights listed in descriptions are approximate to what they grow here in the nursery near Wanganui, New Zealand - so they can marginally differ in other regions and growing conditions.
Images
Images on this website are copyright © Matthews Nurseries Ltd and may not be re-produced or used without permission. Photography by Samantha Matthews, Ted Hannay, Tony Barnes, Eva Simons, Richard Harris and Bob Matthews. Supplemental images provided by David Austin Roses, UK.
ONLINE TERMS & CONDITIONS - Matthews Nurseries Ltd
Prices / Payment

All prices are GST inclusive and subject to change each season. Payment options include online by Direct credit or by Credit Card via PayPal.
Property Ownership / Resale

Property shall pass to the Purchaser only upon payment in full. Under NZ Plant Variety Rights Act 1987 protected royalty varieties cannot be on sold to a third party. Commercial resale of plants is NOT permitted without permission. For wholesale inquiries email: matthewsnurseries@outlook.com
Credits / Refunds

All plants are alive and of saleable quality when they leave our nursery. Credits will only be issued for damage caused in transit (please notify us within 7 days of delivery) and wrongly labelled plants.  To be eligible for a credit, notification must be made within 8 weeks of purchase. All plants are packaged to the highest standard to ensure safe delivery (we have over 70 years experience shipping live rose plants all over NZ) The main reason plants may fail to thrive is due to lack of water/dehydration after planting in the home garden - a factor beyond Matthews Nurseries Ltd control.
Substitution Policy for Special Offer Rose Packs
For Special Offer Rose Packs, if a one rose plant variety becomes unavailable due to high demand, we will automatically supply an alternative plant equivalent in colour, type and quality that is available. Notification of the substitution will be made by email before the Rose Pack is delivered.
FREIGHT PRICING*

Bareroot Bush Roses (June - August)
North Island: 1 - 80 roses is $15.00 (one box), every additional box $15.00 per box
South Island: 1 -4 roses is $15.00 (one bag), 5 - 80 roses is $25.00 (one box), every additional box $25.00 per box
Potted Bush Roses (September - March)
North Island: 1 - 4 roses (one box) is $15.00, every additional box $15.00 per box
South Island: 1 single rose is $15.00, 2 - 4 roses (one box) is $25.00, every additional box $25.00 per box
Standard Bareroot Roses WINTER ONLY
North Island: 1 - 5 standards (one parcel) is $15.00, every additional parcel is $15.00 per parcel
South Island: 1 single standard (one parcel) is $15.00, 2 - 5 standards (one parcel) is $25.00, every additional parcel is $25.00 per parcel.
*Rural Delivery is an additional $6.00 per box or parcel